Green Formwork-Table Style Early Stripping Formwork System
The Table Style Early Stripping Formwork & Shoring System is a Strong , high performance engineered modular Panel shoring system. The formwork offers more erection, stripping and financial satisfaction than can ever be Expected from conventional shoring systems. It begins with rigid panel construction that enhances handling. The Prop with its integrated drop-head puts you in control and helps to ensure confident erection and ease of striking, while back-propping remains undisturbed. These advantages result in a high rate of production. The panel and prop With engineered automatic wind lock provide job safety with a rigid interlocking system that prevents tipping during Erection even without bracing.
| | | |
| --- | --- | --- |
| Item No. | Name | Pic |
| MB | Panel | |
| ZB35 | Prop | |
| JFL | Infill beam | |
Assembly

Advanced Table Style Formwork System
Fully Panel-Panel Early Stripping System
IBS- Industrial Built System
Not with lots of components, Simple!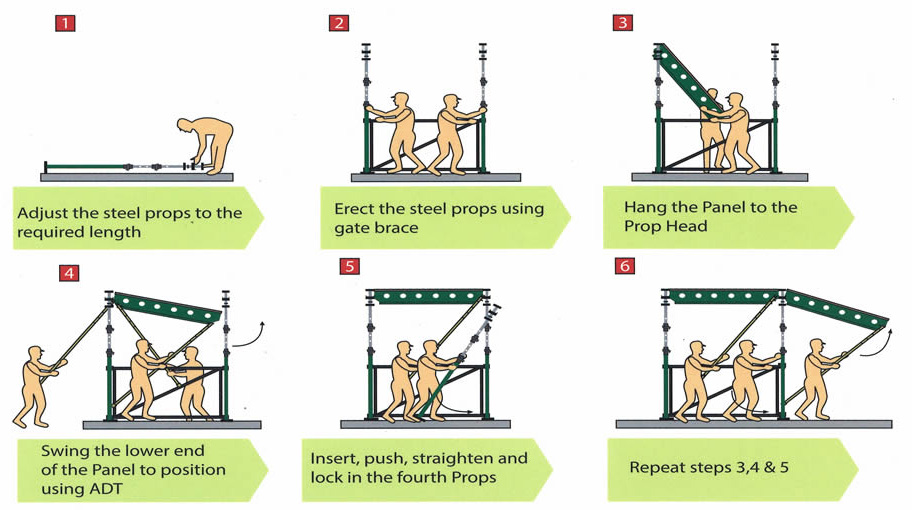 Simple & Creative: No lateral Braces, No Tripod Required Easy Moving (Horizontally or vertically) Only 3 major parts (Panel. Prop, infill)
Fast: 3 to 4 person as a team, per team per day erect more than 500m2 for assembly.
Safe and Environmental: 6 direction locking system. Turning Concept, do not need lift above shoulder.
Efficient: Early strip the panels to next floor when concrete reaches 50% strength, only props remain. Time & 1-2 floor panel material are saved!
Site Application
Used in slab construction site of multi-storey or high-rising tower building.